Kasia
, you were right, I loved it – which completely surprised me. It was
thee
most relaxing trip I have ever taken. I could not have asked for more.
Being from Puerto Rico, and having gone to A LOT of tropical islands, I think I have experienced Caribbean Living but Costa Rica took the cake. To clarify, I know CR is not an island nor is it in the Caribbean but I thought it would be very similar. Palm trees, beaches, relaxed living, rain forest – you know, all those pretty things. Well Costa Rica was all that but in an over-the-top-amazingly-fabulous way. It was greener then any place I have ever been. The foliage was lush and bright. It was simply beautiful in a breath taking way. There were more trees then I had ever seen and tropical birds and butterflies everywhere. I am not a bird person but there is something so pleasant and exciting about sitting in the pool and seeing birds flying over you. You could see butterflies all the time, which made everything seem so surreal and fairytale-ish. I loved just being and watching nature around me, who knew I liked that kind of stuff.
Here's a more detailed recap if you want the nitty-gritty-play-by-play commentary with photos.
We left New York early in the morning and with the time change arrived in Costa Rica at about 9am. By noon we had checked into our hotel, changed into our swimsuits and were by the pool eating lunch. Since it was off season there were never too many people around (I love that).
This was the view of the hotel church from our room.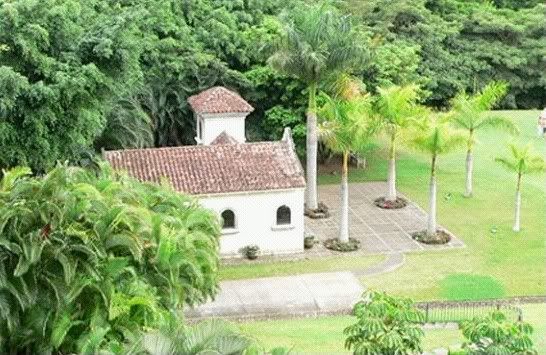 My husband floating in the pool.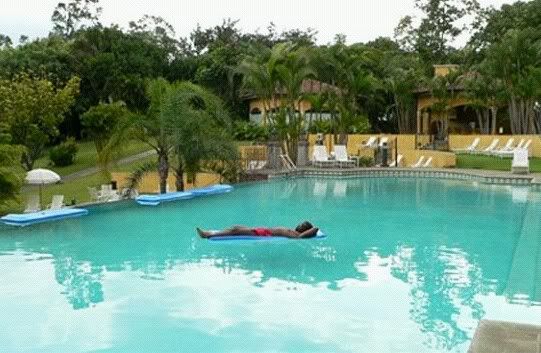 The next day Fred's best friend Vincent arrived early. We met up with our personal driver that we had hired and hands down this was
thee
best decision I made in planning our vacation. We never wasted time trying to figure out where to go, we got everywhere super fast since our driver knows the land and we saw more because we had an experienced driver. It was just perfect and a big part of the reason our trip was so relaxing.
That night we were staying at an Inn on a mountain with a dirt road. On the drive over we stopped in Zacero a town known for topiary's. They were fun to see but not a must stop place.
This is my mom getting water from a street vendor on our way to Zacero.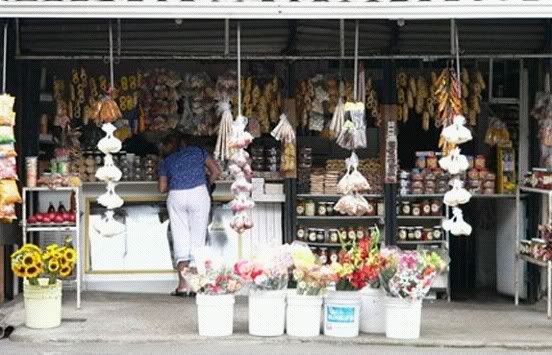 Topiary's in Zacero and the town church. Notice the clouds in the air.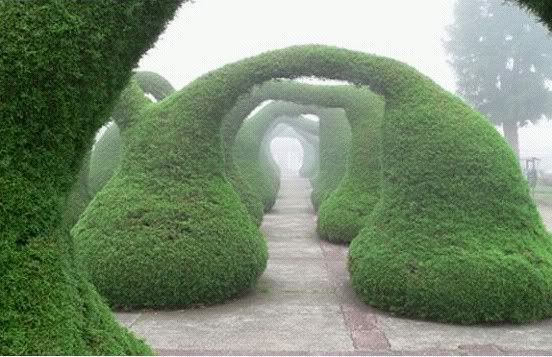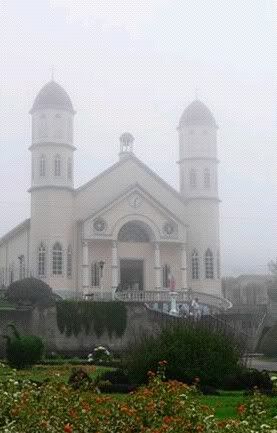 Eventually we arrived at our Inn. The thing about Costa Rica is that in the mountains the clouds come down and cover everything. Initially I just thought it was an over cast day but no, they are clouds and this happens all the time. When we arrived at the Inn we could not see anything. Sitting in the drive way we could not see what the house looked like. We could not see the view it had of the ocean, nothing. It was actually really beautiful in a mysterious way. I loved that it was uncommon and not something we normally experience. It was also exciting to wake up in the morning, before the clouds settled, and see all these things we could not see the day before. It was like unwrapping a gift.
Inside the Inn.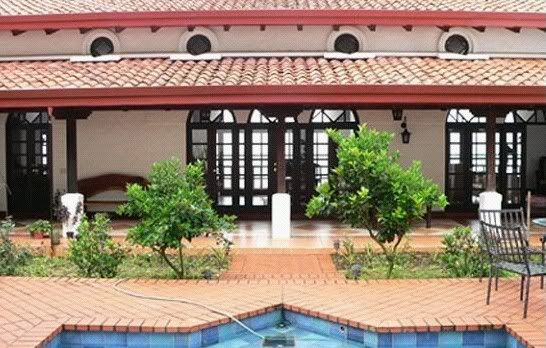 Standing outside the Inn during the morning while waiting for our driver to pick us up. This is me, my mom and Fred.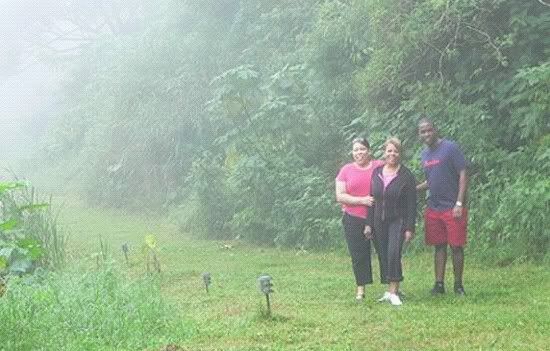 My two favorite experienced while staying at the Inn were one, smoking Cuban Cigars after dinner. In college I went through a cigar faze, which I thought was a sexy thing for woman to do (while wearing gorgeous lip stick of course). So I have smoked a fair share of them but never a Cuban Cigar (seeing how they are illegal here). Our driver hooked me up and after dinner we lit up. I have to tell you I now understand all the hype behind them… they are amazing and delicious. Yes, I said delicious.
This is Vincent and Fred smokin away. I love how gritty and fuzzy this photo is.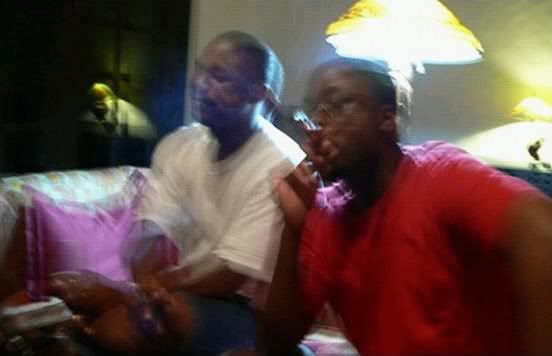 My other favorite moment was getting to our Inn on the second night there. In CR there are a lot of dirt roads and when it rains they are mud roads. They are also rocky, uneven and down right shitty. One night our van could not make it up to our hotel during a storm. Our driver was chugging along but we knew eventually we would probably have to walk (a long way) in the dark. Then God arrived in the form of a pick up truck with the open back. A worker at our hotel was driving home and stopped. He had a four wheel driver, which was better equipped to drive up the mountain so he offered to take us the rest of the way. So in the thunder storm we rode in the back of an open air truck and had the time of our lives. We are not ruff-it-kind-of-folks so this was as close as we got to ruffin' it. Talk about exhilaration. We laughed so hard and I think this is that moment I will remember most about our trip. We took photos during the ride and in every single one you can see a genuine smile on the persons face.
Day time photo of the road leading to the Inn.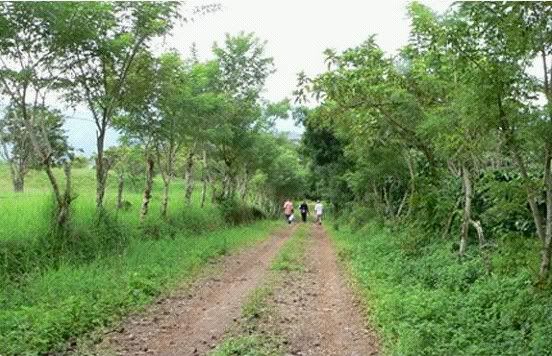 After a few days we headed to the coastal land. In a matter of hours you could feel the air change. It was hot. Way to hot and this was off season. But getting to the hotel was an adventure. You have to pass a river that rises during this time of year. Our main driver arranged for someone in a better vehicle to pick us up and drive us the last 30 minutes. Well due to the rain the river was high and came to the hood of the truck, which had those monster tires. I kid you not. And if you are sitting in the front (as I was on the trip leaving) the water will actually come inside the car. I really enjoyed these moments when we were doing things completely unexpected.
Driving through the river. You can kind of see how the water comes to the hood of the car.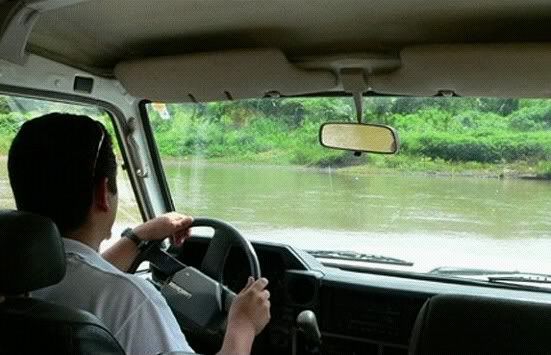 Eventually we arrived at the hotel, checked in and then had our driver take us to our villa, which was secluded and away from the main hotel. It was so perfect. We each had our own bathroom. I loved this! And since it was hot, and at this point we were pissy, we changed into our swimsuits and took a dip in our private pool. None of us had the patience to go back to the main hotel.
The main pool at our last hotel.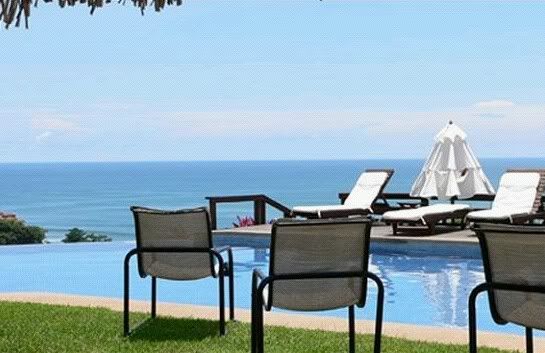 We hung out at this hotel for a few days. Eventually we did leave our villa to try out all the pools. We went to the beach, which sucked but I like pools more so it wasn't an issue for me. We ate lots of food, drank way too much and just had a really great time. My mom wants to return at some point with my father and brother so we are thinking in two years. On the last day we did a canapy tour with the hotel and that is when I fucked up my foot. It hurt like hell, the rest of the day I was in pain but the following day I was OK. Then we got back to NY (two days later) and it has gotten worse and worse. Luckily it did not ruin my trip.
I think that pretty much highlights our trip. I did not see monkeys and sloth's everywhere as I had expected. I actually did not see a money until our 5th day there and I only saw one during the whole trip. I kept asking everyone about them and finally someone at the hotel drove us around and around until he found one. I did hear them, which was exciting but somewhat scary. I never saw a sloth and I never saw a toucan. I never saw the active volcano though we went to the hot spring, which is on it. It was too cloudy and we could not see shit. I saw lots of volchers, which I originally thought were eagles. Surprisingly, they are very beautiful when flying over you and the sky is blue and their wings are stretched for what seems like miles. Oh, and our villa had bats. They scared the hell out of me. I screamed more then once and almost cried on another occasion. No one told me about them (thanks Kasia). ;)
Despite all this our trip was perfect and I loved it.
In a separate, locked, post I'll give a link to all our photos if anyone wants to see that many images of Costa Rica.
Costa Rica was an amazing trip.